Albert Wilson - Miami Dolphins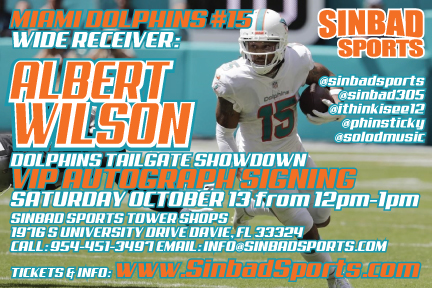 Sinbad Sports Presents:
VIP AUTOGRAPH SIGNING
Albert Wilson Miami Dolphins Wide Receiver #albertwilson @ithinkisee12
Come to Sinbad Sports to Meet Miami Dolphins Wide Receiver Albert Wilson for a VIP Autograph Signing Saturday October 13, 2018! Purchase tickets to get footballs, jerseys, photos, and memorabilia signed and have a photo with him! If you can't make it, you can order online and have your officially licensed and JSA Witness authenticated items delivered to you.
Sinbad Sports – Tower Shops
1976 S University Drive, Davie, FL 33324
DATE: Saturday October 13, 2018
TIME: 12 pm to 1pm
VIP AUTOGRAPH MENU – Albert Wilson – Miami Dolphins
The Sinbad Sports VIP Autograph Signing is very simple. Buy your tickets in advance online at www.sinbadsports.com or the day of the event. Bring in your items you would like to have autographed or purchase items in the store. Line up and meet your favorite player!
VIP Autograph Prices are for:
1 Autograph with Your Item & Photo with Albert Wilson with No Line
***ALL VIP PRICES INCLUDE JSA AUTHENTICATION***
Autograph ONLY Prices:
Sinbad Sports has photos, helmets, footballs, jerseys, cases, custom framing and much more available for purchase the day of the event!
MAIL ORDER PROGRAM
Mail Order Information:
Can't make it, no problem.
We are accepting mail order items for Albert Wilson.
All items must be delivered to us no later than October 12, 2018.
Please include clear instructions with Post its with location of signature and color markers.
Please include check or payment for autographs and return shipping.
Please Ship To:

Sinbad Sports - Tower Shop
Albert Wilson Signing
1976 S University Drive
Davie, FL 33324
info@sinbadsports.com
Tickets & Information Email: 954.451.3497 info@sinbadsports.com