Frank Gore - Miami Dolphins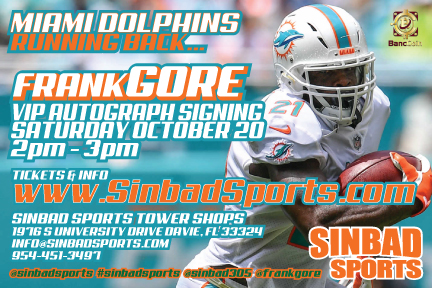 Frank Gore – Miami Dolphins Running Back Miami Hurricanes Running Back
Come to Sinbad Sports to Meet & Greet Miami Dolphins Running Back and former University of Miami Running Back Frank Gore for a VIP Autograph Signing Saturday October 20, 2018! Purchase tickets to get footballs, jerseys, photos, and memorabilia signed and have a photo with him! If you can't make it, you can order online and have your officially licensed and JSA Witness authenticated items delivered to you.
Sinbad Sports Tower Shops
1976 S University Drive, Davie, Florida 33324
954.451.3497

DATE: Saturday October 20, 2018
TIME: 2pm to 3pm
We are giving away Frank Gore Autographs! Share this event and event info on Facebook, Instagram, & Twitter and tag @frankgore, #sinbadsports @sinbadsports #frankgore
VIP AUTOGRAPH MENU – Frank Gore – Miami Dolphins
The Sinbad Sports VIP Autograph Signing is very simple. Buy your tickets in advance online at www.sinbadsports.com or the day of the event. Bring in your items you would like to have autographed or purchase items in the store. Line up and meet your favorite player!
VIP Autograph Prices are for:
1 Autograph with your item & 1 photo op with Frank Gore with NO LINE
Autograph ONLY Prices:
Sinbad Sports has photos, helmets, footballs, jerseys, cases, custom framing and much more available for purchase the day of the event!
MAIL ORDER PROGRAM
Mail Order Information:
Can't make it, no problem.
We are accepting mail order items for Frank Gore.
All items must be delivered to us no later than October 19, 2018.
Please include clear instructions with Post its with location of signature and color markers.
Please include check or payment for autographs and return shipping.
Please ship to:

Sinbad Sports - Tower Shop
Frank Gore Signing
1976 S University Drive
Davie, FL 33324
info@sinbadsports.com
In Store & MAIL ORDER:
Tickets & Information Email: 954.451.3497 info@sinbadsports.com
Congratulations to NFL Running Back Frank Gore! He is now No. 4 in NFL history for Most Rushing Yards!
And that's Not All! Frank Gore is BACK at Sinbad Sports Oct 20, 2018 for a VIP Autograph Signing!
If you missed the first one, you CANT MISS THIS ONE! Get your tickets EARLY!